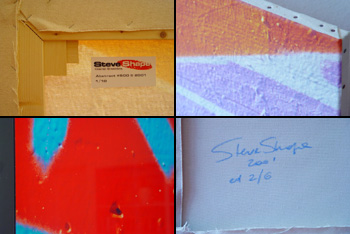 Steve Shape's Artworks are produced with an exclusive long lasting technique*.

Pictures are laser printed on photographic paper. After a special treatment they are pressed on Rembrandt canvas to assume a stunning painting texture.

Finally the canvas is carefully nailed on a strong wood frame, ready for your walls.

Steve Shape's artworks also come on perspex and framed, for those who prefer photographic effect and brillant colors.